Past Sschool Events
World book day 7th March 2019:
The staff and children dressed up for World Book Day. There were some fantastic costumes around school.
Christmas Dinner 20th December 2018:
The children had a lovely Christmas dinner cooked by the Kitchen staff. The hall was decorated beautifully too.
Prince of Wales Theatre 11th December 2018:
The children put on an amazing performance for their parents and friends. The theme this year was "Christmas Wonderland" and each class acted and danced to music. There were lovely costumes and props, and even a nativity scene. Well done to everyone involved.
Red Phase Scarecrow Competition Harvest 2018
The Winner
Macmillan Coffee Morning - Friday 28th September 2018
We had a wonderful selection of cakes for Macmillan coffee morning. It was lovely to see lots of parents coming in to join us and donate to a good cause.
Achievement Awards Assembly - Tuesday 17th July 2018
Today we celebrated the achievement our pupils have made over the year. Parents and carers of nominated children were invited to watch their children receive certificates and trophies.
Sherbrook Fun Day - Friday 13th July 2018
It was a lovely sunny day for our fun day. Parents and children enjoyed looking at the different stalls around the field. We had a visit from 'Rupert' the pony and refreshments were available. We raised over £1000 so thank you everyone who attended and those that made donations to the stalls.
Congratulations to the winners from the fun day:
Decorated Jars - A.M (R2) and Jessie Jarman (R1)
Sweets - Maddie Harris (G1)
Eric - A.G (G3)
Doll - Pam Griffiths
Pink TeePee - T.J (B2)
Blue TeePee - Joshua Moore (B1)
Teddy - William Ferguson (B1)
Entry Raffle - Natalie Griffiths
Thank you afternoon - Thursday 12th July 2018
Sherbrook School thanked the parents, carers, and visitors that come into school during the year to volunteer and support the children with various activities. The children in Blue 1 sang a few songs, Louise gave a short speech and thank you cards were given out. Cakes and refreshments were available.
Goat petting - Wednesday 23rd May 2018
Staff from Amerton Farm brought four goats to school for the children to meet and pet. The children enjoyed the experience
School sailing - April/May/June/July 2018
Every class in Sherbrook has the opportunity to go sailing at Gailey Lakes. Some classes have already been. They've had a super time using the canoe boats and the sailing boats, and spotting wildlife around the lake. Other classes will be going before the end of the school year.
Red 3 chicks hatch - Friday 16th March 2018
Click on the link below to see Red 3's chicks hatching.
KS1 and complex needs Theatre trip - Tuesday 9th January 2018
The children in KS1 and complex needs had a lovely day out at Birmingham Rep. They watched 'One Hundred and one Dalmations.' The puppets were fantastic and the music was enjoyable.
Christmas Jumper day - Friday 15th December.
Staff and children wore their favourite Christmas jumper to school. Even Eric the school dog got involved.
Christmas Dinner - Thursday 14th December.
The children had a fantastic Christmas dinner in the hall, cooked by Kerry and the kitchen staff. The food tasted wonderful, the hall was decorated beautifully, and songs played in the background.
KS2 visit to see Robin Hood at the theatre - Thursday 7th December 2017.
KS2 had a lovely theatre trip to Stafford to see Robin Hood. It was very good.
School visit to Drayton Manor Winter Wonderland - Tuesday 5th December 2017.
The children had a lovely day at Drayton Manor. They went on lots of rides, watched it snow at the Thomas Station, had lunch and even got to see Santa and receive a present from him. The children behaved excellently.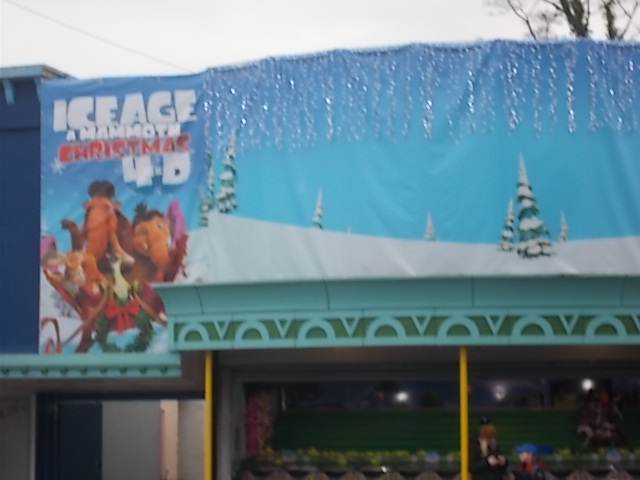 Decorating the school Christmas Tree - Friday 1st December 2017.
During assembly each class placed the decorations they had made on the Christmas Tree. The lights were switched on and we all admired each others decorations. The tree looks beautiful.
Dick Whittington (M & M Productions ) - Thursday 23rd November 2017
On Thursday 23rd November M & M Productions visited the school. They performed 'Dick Whittington' for the children. The children sat really well and enjoyed watching and joining in with the songs.
Armistice Day - Friday 10th November 2017
On Friday 10th November each class took poppies they had decorated and placed them around the tree in our quiet area. At 11am we were silent for a minute to remember the fallen and to honour the serving.
Harvest Festival - 10th and 11th October 2017
Each class took part in a Harvest Celebration with their phase group. (Green, Red or Blue.) The children had lots of fun singing songs and dancing. Here are a few photos to show our celebrations.
Fun afternoon - 20th July 2017
We had lots of people come and visit the school for our fun afternoon. There were stalls set up around the field with different activities on, such as 'cup pong', 'dress up as a miner', 'face painting', and 'food stalls'. The fire service brought their fire engine, and the ice cream man visited. Many thanks to everyone who came along and supported us. Over £750 was raised!!
Thank you afternoon - 13th July 2017
Sherbrook have many people help the school throughout the year. We took the opportunity to say 'thank you' to them by holding a 'Thank you' afternoon in the hall. The school choir performed, cards were given and drinks and cakes were served. It was lovely to see so many people attend.
Congratulations Bethany Butler: July 2017
Congratulations to Bethany Butler. Here she is receiving an award at the Grand Theatre for her environmental poster.
Dance Wiggle - 19th June 2017
The children and staff came to school wearing bright clothes. In the afternoon we had a disco and demonstrated how well we could dance and wiggle. We raised £66 towards Happy Days Children's charity. Well done everyone who took part.
Grand opening of the kitchen - 26th May 2017.
A big thank you to all the parents/carers that came to the kitchen opening and food tasting afternoon. We had a great turn out. Also thank you to Kerry and the kitchen team for all their hard work and preparation for the event.
World Autism Day - 3rd April 2017
Staff and children dressed in an item of blue clothing in support of World Autism Day. We raised £133.15. Thank you all for your support.
Red Nose Day - 24th March 2017
Staff and children came to school dressed in an item of red clothing in support of Red Nose Day. Classes took part in fun activities, and in the afternoon each Key Stage had a school disco in hall. We raised £107.10. Thank you all for your kind donations.
World Book Day - 2nd March 2017
The children enjoyed coming into school dressed up as their favourite book characters. The staff also joined in with the fun.
Congratulations Liam!
On Saturday 19th November Liam wowed the audience at St Thomas' church Fayre in Huntington by performing his own set of Christmas Carols and songs.
He sang beautifully and there wasn't a dry eye in sight, Well Done Liam you are a credit to the school and your family.
Armistice Day - Friday 11th November 2016
On Friday 11th November each class took poppies they had decorated and placed them around the tree in our quiet area. At 11am we were silent for a minute to remember the fallen and to honour the serving.
Hatching chicks - Tuesday 22nd March 2016
We were so excited when the eggs we had been incubating hatched and out popped some REAL Easter chicks! All the children in the school got to see the eggs before they hatched and the chicks afterwards. The children were amazed by the chicks and many of the children had an opportunity to stroke the chicks. A real 'hands-on' science activity! Now the children have a better understanding of the lifecycle of a chicken and have observed how they change and grow in a short space of time. This is an activity we hope to repeat again as all the children in the school (and the staff) got so much from it!
Sherbrook Easter church service at St Luke's Church Cannock - Tues 22nd March 2016
The whole school travelled down to St Luke's Church for their Easter service where the children sang, danced, read poems and prayers to mark the tradition of Easter. We hope the parents who could come along enjoyed the service. We were proud of the children for their performances.
Theatre trip to see The Gruffalo's Child for Key Stage One & complex needs classes - Friday 5th February 2016
Some of us went to Stafford Gatehouse Theatre to see The Gruffalo's Child. It was a lovely trip and we really enjoyed ourselves. We also did some work around the story before and after the trip to consolidate the story.

Sainsbury's gave us some books - Monday 11th January 2016
Heather the PR Ambassador from Sainsbury's in Cannock visited school to present us with 30 copies of 'Mog's Christmas Calamity.'
Pupils from Blue 2 and Blue 3 were delighted to receive these books and enjoyed reading the story to Heather; she was very impressed with their storytelling!
A big thank-you to Sainsbury's and Heather for this kind donation.
Santa visited Sherbrook - Thursday 17th December 2015
All of the children got to see Santa when he visited our school and they also received a gift from him. It was a magical experience for all and there were plenty of smiles.
Key Stage 2 trip to Stafford theatre to see the pantomine - Wednesday 16th December 2015
All of Key Stage 2 had a fabulous time at Stafford theatre to see the panto! The panto was 'Jack and the beanstalk - The rock 'n' roll panto'. The children really enjoyed the show and dancing along to the music.
Carol service at St Luke's Church - Monday 14th December
We walked down to St Luke's Church in Cannock for a Christmas Carol service led by Reverend Alex. Here we sang some Christmas Carols and some children did a reading. We were so proud of those who read and sang at the front and also all the children for behaving well and joining in. Each class made Christingles which we brought to the alter to be lit by Reverend Alex. We were told the story of the nativity by Reverend Alex. It was a lovely service which helped us to remember the true meaning of Christmas.